Read the full article.
Transforming the C-suite: Developing and Advancing Women Leaders
This study examines gender parity in senior corporate leadership positions and provides six concrete recommendations for advancing gender diversity in the workplace.
"It is broadly acknowledged that diversity improves financial performance and a majority of organizations have a formal gender diversity initiative in place, the data shows that the number of women in senior leadership positions is still significantly low, with only 4.2% of women holding CEO positions in America's 500 biggest companies. A study by Grant Thornton reveals that globally, women hold an average of just 21% of senior management roles and only 9% of CEO jobs.
What Did We Discover?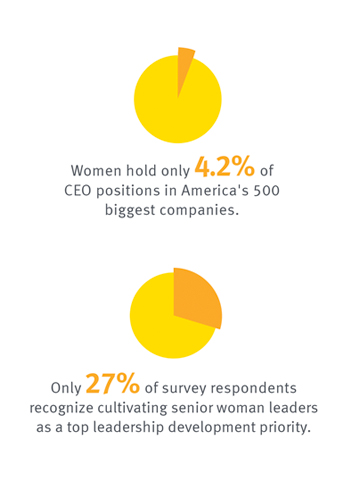 Research for this study included a survey to 1,000 senior leaders globally, qualitative interviews with senior female executives and a ranking of all FORTUNE 500 companies based on their level of gender diversity in leadership. Based on these findings, the report outlines six suggested strategies to improve gender diversity in your organization."
Read the full article.